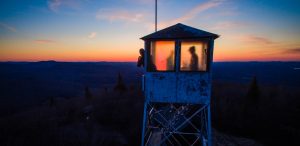 Sponsored the by the Friends of Mt. Arab, this mountain is a great climb for kids of all ages. The trail is approximately one mile, a steady moderate climb right from the trailhead on the Mt. Arab road. You will be pleasantly rewarded at the summit with a fire tower and observer's cabin/museum, and during the summer months, an educational visit with the summit steward.
The Friends of Mt Arab is a non-profit organization dedicated to the preservation of the fire tower and observer's cabin, and maintenance of the summit trail. Gratefully accepted, tax deductible donations may be sent to F.O.M.A., PO Box 185, Piercefield, NY 12973.
The Horseshoe Lake-to-Low's Ridge trail is an all day hike rewarded by great views of Hitchins Pond and a vast expanse of forest to the south.
For the casual day afield, Massawepie Mire is a great place to hike, bike, and birdwatch, in essence, to enjoy the wild with a minimum of exertion.